High performance Intel Celeron Processor.

Intel Celeron Processor enables high presence visual experience.
Optimal usage: e-mail, Web browsing, compose documents etc.
Newest OS Windows 10 Pro installed.

Essential for company's Active Directory environment.
It is recommend for customer
・values security and backup functions.
・must connect to company's network or join to AD domain.
・wants to use Client Hyper-V (virtualization) function.
High cost-performance 14.1" laptop PC with US layout keyboard and English OS

The photograph is a sample image. Actual product may vary.
Reasonably priced laptop PC
In laptop PC TSNB14UP1 series that meets both low price and sufficient performance, the new model is launched, featuring the US layout keyboard and Windows 10 English pre-installed.
This brand-new gear is also affordable and easy to use for foreign people living in Japan.
Equipped with the US layout keyboard popular with English and Chinese-speaking countries

A US layout keyboard is popular among the world and is suitable for typing foreign languages like English, Chinese and others.
Annotation: The keyboard on this model is based on a setting popular among overseas laptop PCs.
when pressing F1-F12 key separately, it works shortcuts printed on each keys.
For use as function key, please press with "Fn" key at the same time.
Windows 10 English is pre-installed, and enable to change to your preferred language
Windows 10 English is pre-installed, and you can change easily to your preferred language from English, Simplified Chinese, or Japanese while setup.
There are many foreign people living in Japan who wants to use PC with their familiar language and multilingual support brings them to more convenience.
14.1inch fullHD IPS LCD panel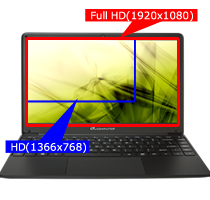 Wide viewing angle and high color reproducibility IPS LCD panel equipped.
Non-glare LCD panel
Less outer light reflection and less eyes tired.
It's comfortable with viewing long time while like web browsing or using business applications.
High speed SSD storage
Common low-price laptop PCs are often installed eMMC storage.
However, this model have 64GB SSD storage instead, featuring high speed data read / write and quick response.
Micro SD slot is also equipped, supports up to 128GB media.
Comfortable network function
IEEE 802.11ac Wi-Fi

44% faster than IEEE 802.11n, IEEE 802.11ac standards supported.
(Transfer rate is theoretical value on specification, so is not shown actual speed.
Supported Wi-Fi router is required for 11ac communication.)
Windows 10 Pro pre-installed
Including functions like Active Directory support and Bit Locker encryption Windows 10 Pro is pre-installed. This OS is suitable for using in business, education, mobile work.
Usable many external ports

Mini HDMI
With this port you can connect external display or projector.
Multi display function is also supported, by using internal and external display simultaneously.
USB3.0 / USB3.1 Type-C

No distinction upside-down, USB3.1 Gen1 Type-C port equipped.
You can connect cable no matter connector orientation.
2x USB3.0 Type-A ports are also equipped.
Bluetooth

Bluetooth v4.2 is installed. You can connect Bluetooth peripheral equipment like keyboard, mouse, headset without cables.
USB Power Delivery supported
USB 3.1 Gen1 Type-C port supports USB Power Delivery function.
This special feature allows you quick-charging with a suitable charger.
You can use generic products like cable that same to use for smartphone, so feel free to use even on trips.
Supports video chat Webcam equipped.
High resolution 2M pixels webcam is installed on the top of display.
While on video chat and TV meeting, you can use it for smooth communication.
Gallery